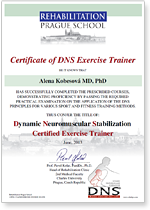 DNS Certified Exercise Trainers are Health, Fitness, and Sport Professionals who have satisfactorily completed the requisite DNS Exercise Training coursework consisting of DNS Exercise Courses I, II and III. They have passed the practical testing associated with their training, and have demonstrated competent knowledge and skill execution in the application of the DNS Assessment & DNS Active Exercise principles in common sport injuries, painful syndromes and within various sport and exercise training methods. They have earned the title "Certified DNS Exercise Trainer" (DNSET) issued by the Prague School of Rehabilitation, Prague, Czech Republic.
North America

Canada

Capitano Eugene, DC
eugene@unitedtherapies.ca
204-338-5252
104-1695 Henderson Hwy. Winnipeg Manitoba R2G 1P1 Canada unitedtherapies.ca

Forgie Matt, DC, CSCS, SFG, TPI
mattforgie@gmail.com
506-847-7263
2 Hampton Rd., Rothesay, New Brunswick, E2E 5K9, Canada https://www.facebook.com/forfitnessandathletics

USA

California

Burke Paul, LMT, ART, NKT
paulburkeworks@gmail.com
510.863.0759
Mindful Bodywork 908 Tulare Ave Albany, CA 94707 MindfulBodywork4u.com

Einhorn Austin, CSCS, DNSET
austin@prefitpt.com

9000 Soquel Ave. Suite 103 Santa Cruz CA, 95062 www.Precision-Sports-Performance.com

Fred Engelfried, CEO FS2 Training, LLC: Nationally Certified Trainer, Educator & Speaker
fredengelfried@fs2training.com

Los Angeles, visit us at www.fs2training.com

Hsieh Jerry,
jerry.w.hsieh@gmail.com
510-423-3336
Life Chiropractic College West, 25001 Industrial Boulevard, Hayward, CA, 94545, United States

Charlie Reid, Fitness Professional
Reid.charlie@gmail.com
415-430-5326
Regular Exercise 1401 Clement St San Francisco, CA 94118 www.regularexercise.net Http://www.charliereidfitness.com

Kempeny Barbara, DC, DACRB
drbarbk@sbcglobal.net
408.615.0222
826 N Winchester Blvd Ste 1C, San Jose, CA, 95128-1356, United States www.chiroedge.net

Marisa Myer, CMT, CPT (Pilates)
marisamyer@gmail.com
(415) 722-8808
Mill Valley Physical Therapy 619 E Blithedale Ave, Mill Valley, CA 94941

Michael Rintala, D.C., D.N.S., C.S.C.S., A.R.T.
mrintala67@gmail.com
858-452-0282
10803 Vista Sorrento Pkwy. San Diego, Ca 92121 www.RintalaChiro.com

Pilotti Jennifer, M.S. Personal Trainer
pilottij@gmail.com
831-233-4094
1076 The Barnyard Carmel, CA 93923 www.bewellpt.com

Roy Page, D.C., M.S., DNSET, A.R.T.
roypagedc@gmail.com
310-470-2909
10474 Santa Monica Blvd., suite 304 Los Angeles, CA 90025

Scott Sonderman, DPT
sondermanscott@gmail.com
314-306-6572
6363 Wilshire Blvd Los Angeles, CA 90048

Shveyd Leo, CSCS, Owner of Advanced Wellness
lshveyd@advancedwellness.com
415-497-9645
2940 Geary, San Francisco, CA, 94118, United States www.advancedwellness.com

Waterbury Chad,
waterburyfitness@gmail.com

2800 Neilson way apt 1405, SANTA MONICA, CA, 90405, United States chadwaterbury.com

Florida

David Ruiz, MS, ATC, Cert.MDT
athletictrainer@gmail.com
(407) 256-8583
Orlando, FL 32821 www.orlandoathlete.com

Louisiana

Ian Lusins, LMT, ART, PES, CES
Ianlusins@yahoo.com
225-978-5964 www.ianlusins.com